Interactive 3D Liver Anatomy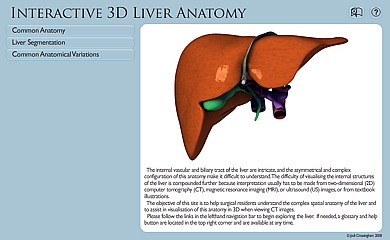 Quick Access
Click here to open the Interactive 3D Liver Anatomy (Alpha release) program immediately or scroll down to read more about it.
Introduction
The internal vascular and biliary tract of the liver are intricate, and the asymmetrical and complex configuration of this anatomy make it difficult to understand. The difficulty of visualising the internal structures of the liver is compounded further because interpretation usually has to be made from two-dimensional (2D) computer tomography (CT), magnetic resonance imaging (MRI), or ultrasound (US) images, or from textbook illustrations. This learning resource provides an in-depth, interactive, 3D look at the liver to help user's gain greater understanding of the complex spatial relationships of the liver's internal anatomy and to help facilitate understanding of this anatomy when viewing CT scan images.
Learning Objectives
To learn and identify superficial and internal structures of common liver anatomy.
To increase understanding of CT scans of common internal anatomy of the liver's four systems: hepatic systemic venous system, portal system, hepatic arteries, and hepatic ducts by simultaneous comparison with the 3D liver model.
To learn and understand how the vasculature define the eight Couinaud segments.
To learn the resection borders of common surgical procedures of the liver.